Camp Cody - Corporal Al T. Hittle
* Jon B. Hittle's Grandfathers Camp Cody Scans *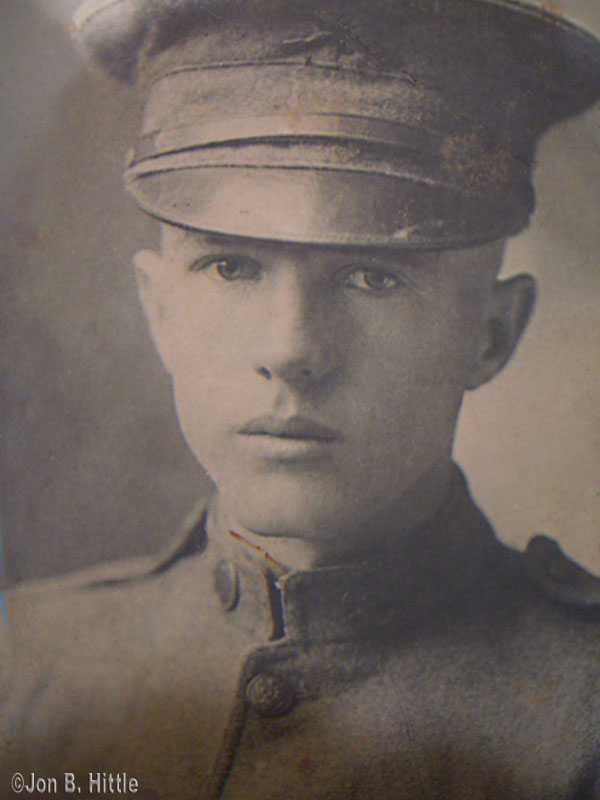 Corporal Al T. Hittle's enlistment photo probably taken at Camp Dodge, Iowa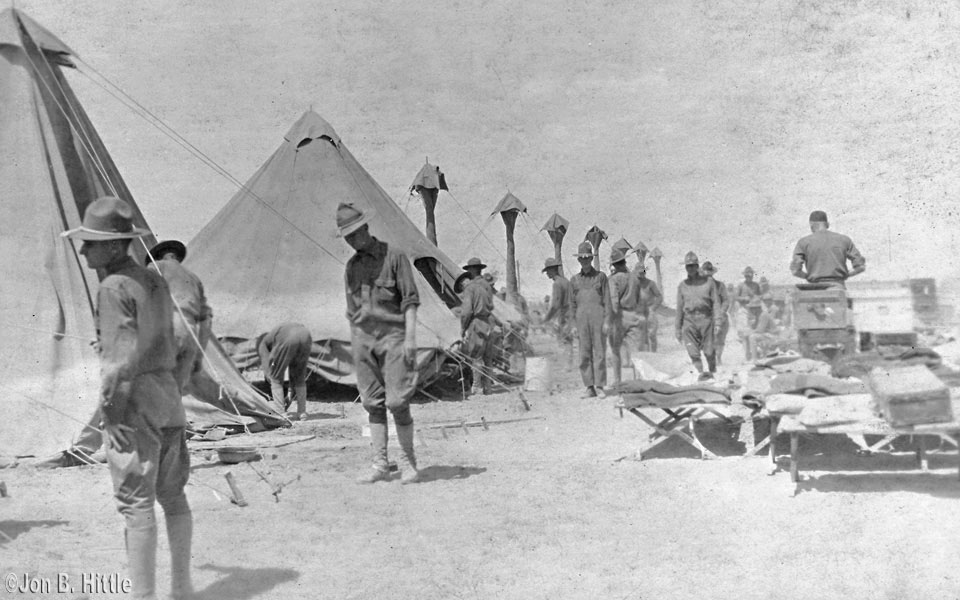 Airing out tents at Camp Cody, Deming, New Mexico.
Airing out tents at Camp Cody, Deming, New Mexico.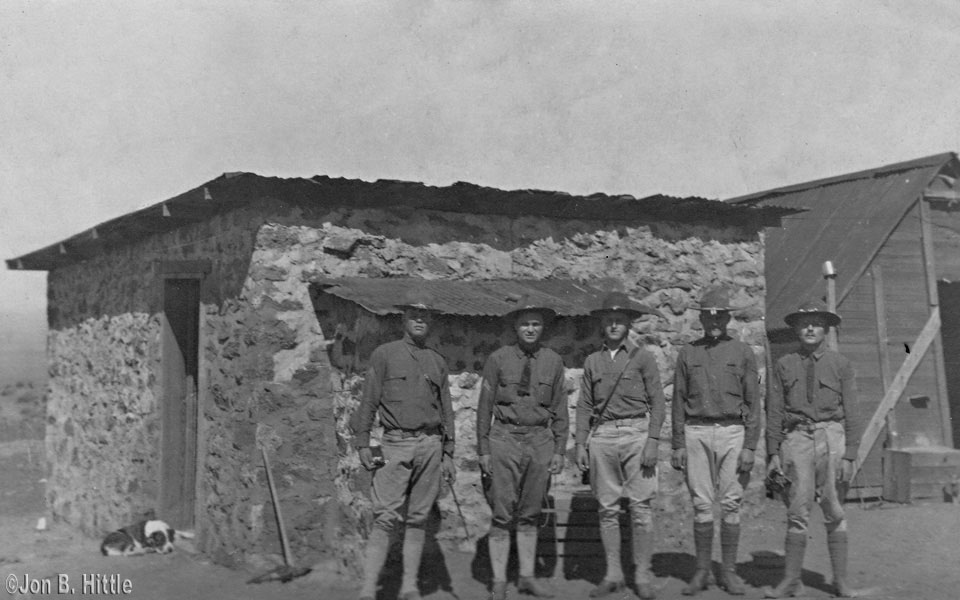 Al Hittle (third from right) and Friends Inspecting Abandon Ranch Building at Camp Cody.
Army Cooks at Camp Cody making that day's bread.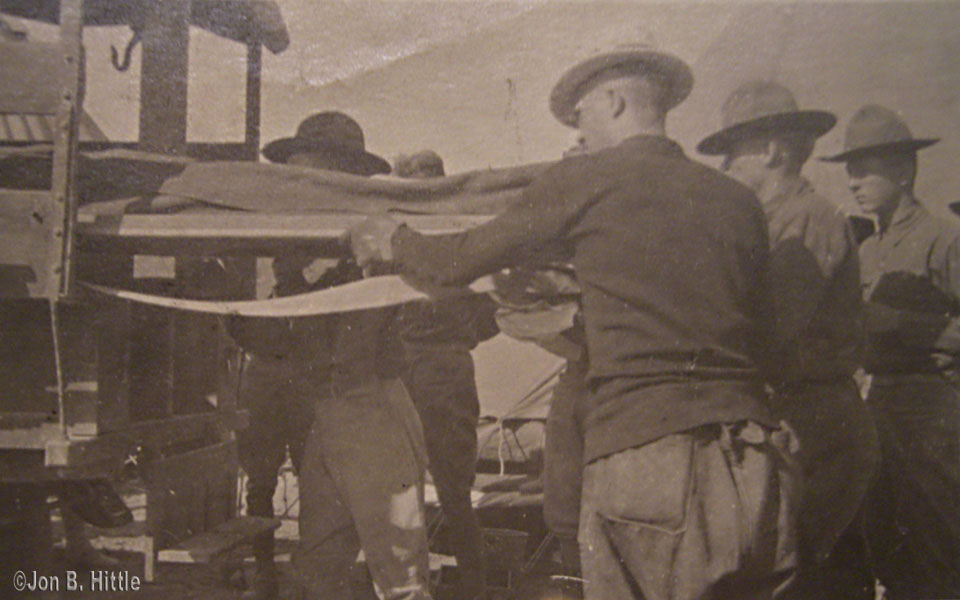 Pictures is of Corporal Hittle being evacuated in an ambulance after he was stricken with ptomaine poisoning.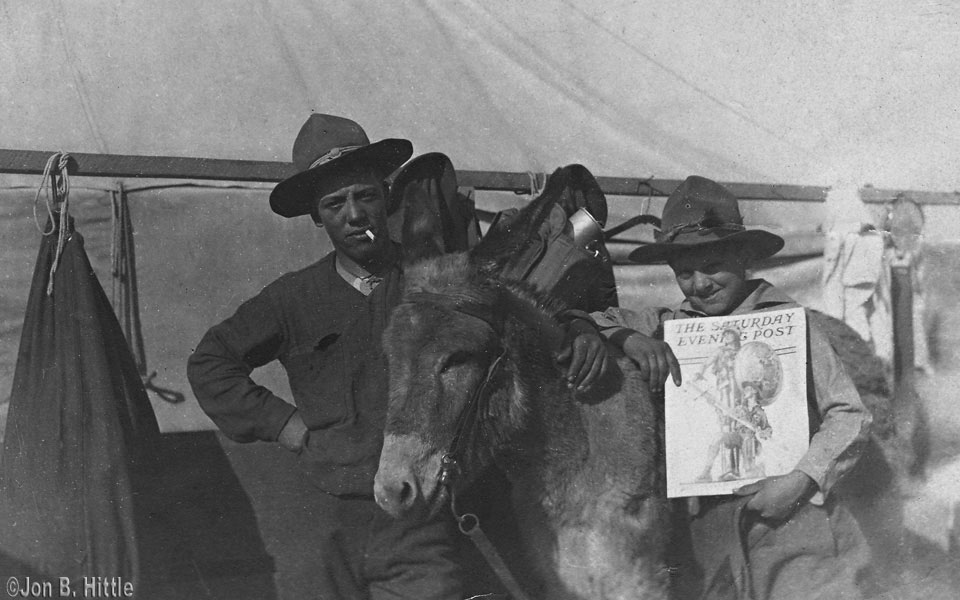 Friends of Corporal Al T. Hittle at Camp Cody, Deming, New Mexico.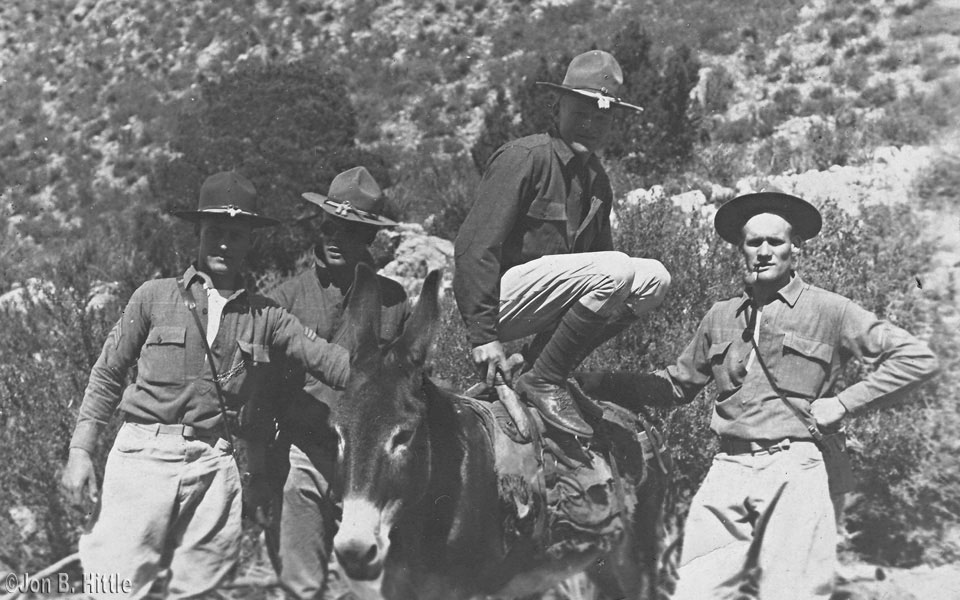 Friends of Corporal Al T. Hittle at Camp Cody, Deming, New Mexico.
Friends of Corporal Al T. Hittle at Camp Cody, Deming, New Mexico.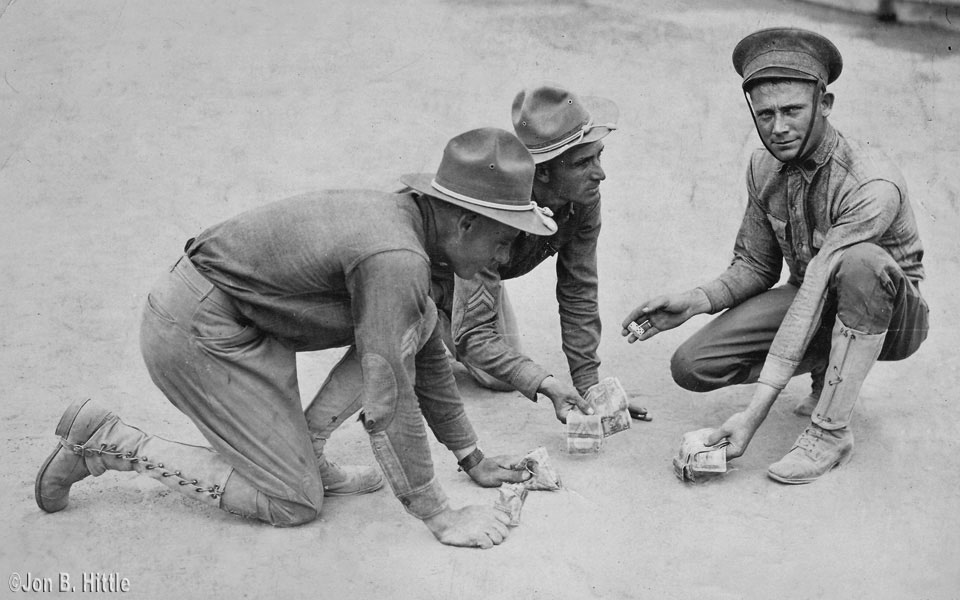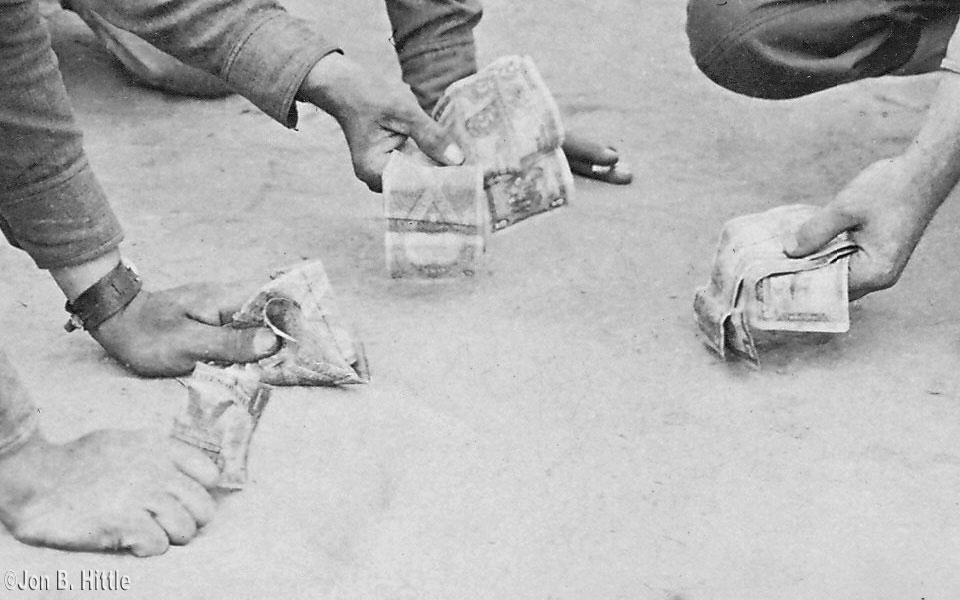 Three Non-Commissioned Officers With Dice Playing Craps at Camp Cody, Deming, New Mexico.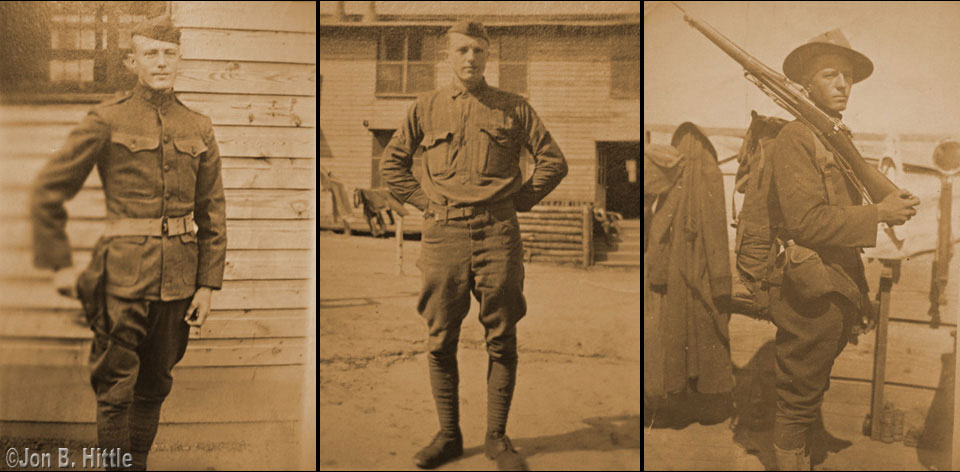 The soldiers in these photographs are from the 133rd Infantry Regiment and the 127th Machine Gun Battalion,
34th Division. All images taken at Camp Cody between October 1917 and September 1918.
Corporal Al T. Hittle is in the above three photos.
---
Biographical note for Corporal Albert T. Hittle
by Jon B. Hittle
Albert Thomas Hittle was born on 20 June 1897 at Good Hope, near Castana, Monona County, Iowa. His grandfather Sergeant Michael Hittle and his great grandfather Corporal Jacob Hittle were veterans of the Civil War, having served together in Company A, Thirty-Sixth Iowa Infantry Regiment in Mississippi and Arkansas from 1863-1865.

Albert graduated from Mapleton High School in 1915. He enlisted in the 2nd Iowa Infantry (National Guard) at Sioux City Iowa May 2, 1917 and reported with the 2nd Iowa to Camp Dodge, Des Moines, Iowa. The 2nd Iowa entrained for Camp Cody, Deming New Mexico a national guard cantonment shortly thereafter. Not long after their arrival at Camp Cody, the 2nd Iowa was dissolved and the regiment was re-named the 133rd Infantry Regiment and attached to the 34th Infantry Division (the "Sandstorm" or "Red Bull" Division").

While at Cody, Albert served in CO L, 133rd Infantry, but he is also listed as a member of the 127th Machine Gun Battalion on a Thanksgiving Day dinner invitation. Albert trained at Camp Cody for 15 months, advancing to Corporal, before the 34th Division entrained for New Jersey and began sailing in increments for Europe. The 133rd Infantry Regiment reached England by mid-October 1918. At that time, however, the War Department decided it did not need another entire division on the Western Front, so the 34th Division was de- activated. Corporal A. T. Hittle and other infantrymen of the 133rd Regiment were needed as replacements, however, and Corporal Hittle was sent to France in a casual detachment and assigned as a replacement Corporal to L Company of the 168th Infantry (Iowa National Guard), 42nd "Rainbow" Division.

During the previous July and August, the 168th Infantry had suffered many casualties in the battle of St. Mihel, particularly among non-commissioned officers. Albert entered the trenches within the 42nd Division's sector on 1 November 1918 and four days later he participated in the assault and capture of the German stronghold of Sedan. The 168th Infantry had by that time acquired a reputation for aggressiveness and marksmanship, and that regiment had a standing order never to take prisoners unless specifically ordered to do so. The 168th, therefore had amassed a fine combat record in the year or so it had been in combat in France.

Almost immediately after the cease-fire went into effect on 11 November, 1918, therefore, General Pershing selected the 168th to commence a 15-day forced march through Luxembourg and Belgium in rain, sleet, snow and mud, continuing into Germany, where the regiment took up it's "watch on the Rhine." Corporal Hittle spent the winter and spring of 1919 garrisoned with Company L at Neiderzeissen, Germany, on the west bank. In July 1919 they sailed for New York and then moved by train back to Camp Dodge, Iowa, where the 168th had a fine reception from the citizens of Iowa.

After being mustered out of federal service, the troops were dismissed and returned to their home towns. Following his war service, Albert moved to Leeds, a suburb of Sioux City, and was employed in the post office for awhile before becoming an apprentice motor mechanic, learning his craft at the Hawkeye Truck Manufacturing Company in Sioux City helping to design and build internal combustion engines.

He married Martha M. Rapp in Leeds in 1920 and they began a family there. Albert advanced master mechanic and was subsequently employed with the International Harvester Company, the Interstate Bus Line Company, and was shop foreman for various Iowa motor transportation firms through the 1920s and 1930s. Following the attack on Pearl Harbor, Albert became an automotive instructor for the US Army Ordnance Department, based first at Omaha Nebraska.

In early 1945, he was transferred to the Oahu Army Motor School at Schofield Barracks, Hawaii. He remained at Schofield Barracks until June 1950, when he returned to the mainland and after a short few months in Los Angeles, made his home in Jefferson, South Dakota, outside of Sioux City. He owned and operated a restaurant there and also served as both Justice of the Peace in Union County and as the Fire Chief at Jefferson.

He was, inter alia, a fine fiddle player and became a noted square dance caller, performing during his time in Los Angeles with the western swing orchestras of Bob Wills and the Texas Playboys and the Spade Cooley Orchestra. In his later years he made several appearances performing at the South Dakota State Fair.

He had three sons and a daughter. All three sons served in the US Air Force. Corporal Hittle died in Jefferson South Dakota of a heart attack on September 8, 1960. He is buried at St. Peter's Catholic Cemetery in Jefferson. Corporal Hittle was a charter member of Monahan Post 64, American Legion, the Veterans of Foreign Wars and the 42nd Division Veterans Association.
---
Acknowledgments: I wish to express my sincere appreciation to Jon B. Hittle for donating his
scanned photographs. These pictures belonged to his grandfather, Corporal Al T. Hittle. Thank you very much Jon Hittle
for sharing these pictures with everyone and for helping me to preserve the history of Camp Cody.
I do not own any of the actual Photographs or items on this Camp Cody Web site.